About Sumitomo Pharma
Our challenge for the betterment of healthcare and fuller lives of people worldwide
Mission
Sumitomo Pharma Group is a member of the Sumitomo Group, which has a history of about 400 years.
We strive to enhance corporate value and contribute to solving social issues under the Sumitomo's Business Philosophy.
For more details about Sumitomo's history and the Sumitomo's Business Philosophy, please visit Sumitomo Group Public Affairs Committee's website.
MissionTo broadly contribute to society through value creation based on innovative research and development activities for the betterment of healthcare and fuller lives of people worldwide
Values
Values

●

Patient First

●

Always with Integrity

●

One Diverse Team
Declaration of Conduct
Declaration of Conduct
1. Follow through on our Slogan "Innovation today, healthier tomorrows." We constantly pursue self-innovation to deliver innovative products and services with speed so that people around the world can lead healthier and more fulfilling lives.
2. Pursue trustworthy corporate activities.We comply with laws and regulations, and conduct transparent and fair corporate activities with the highest level of ethics.
We resolutely sever all relations with antisocial forces and organizations that present a threat to the order and security of civil society.
3. Transparently disclose and properly manage information.We disclose corporate information in a timely and appropriate manner.
We take appropriate measures to protect and manage personal and customer information acquired through corporate activities.
4. Improve individual capabilities and collaborate with peers.We work together with respect for diversity, character and personality of peers in an effort to create a healthy and safe work environment.
We focus on doing our best work as we strive for results in an organization that provides opportunities to grow and develop new skills.
5. Respect human rights.We respect the rights of all people associated with our company in conducting corporate activities.
We seek ways to work with our business partners, including suppliers, and other relevant stakeholders to promote respect for human rights.
6. Positively address global environmental issues.We engage in all aspects of our corporate activities in consideration of the environment.
7. Build harmonious relationships with society.We value communications with all of our stakeholders and promote initiatives contributing to the realization of a sustainable society.
We consider the local culture and customs of the countries and regions in which we operate, and contribute toward local economic and social development of those communities.
Slogan

The Slogan reflects full commitment to deliver to society innovative products and healthcare solutions, created through groundbreaking ideas and high-standard research and development by each individual employee's challenge for innovation, so as to help enable the patients and their families lead healthier and fulfilling lives. It also expresses our Mission symbolically.
●

Unique R&D capabilities in two priority disease areas and other areas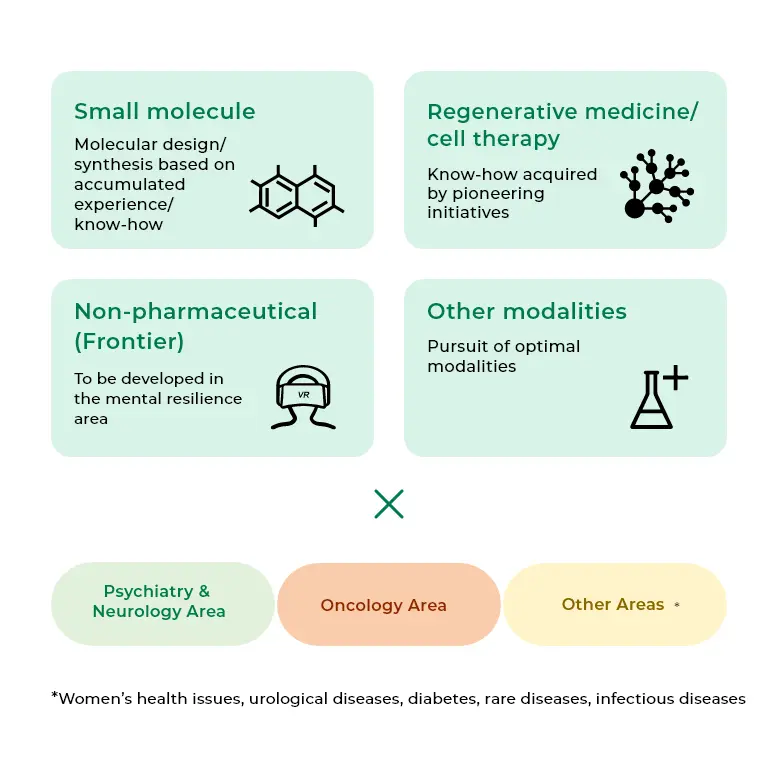 With a focus on the Psychiatry & Neurology and Oncology disease areas, where unmet medical needs are high, the Sumitomo Pharma Group will make the utmost of the experience and knowledge that we have acquired so far to continue making active efforts for research and development of pharmaceuticals, regenerative medicine/cell therapy, non-pharmaceutical products, and otherwise. In other areas, too, we will tap into assets at hand and make steady R&D efforts to deliver solid value to patients.
For more information, click here.
●

Human resources management that retains excellent talent and maximizes potential of each employee
A professional human resources system that harnesses human resources with a high ability to produce results based on their expertise

We have established a professional personnel system with the aim of building a strong corporate culture by maximizing the use of human resources who have enhanced their ability to produce results based on their expertise.
In addition to the traditional career path of Professional Managers (PM), employees with a high ability to generate results as individuals based on their expertise are appointed as Professional Contributors (PC). We are promoting changes in the mindset of executives and younger employees to produce results both at the organization and the individual levels. We currently have about 40 people in PC positions.

Human resources with excellent research and development capabilities (technology, intelligence, and know-how)

We implement company-wide educational programs to enhance individual abilities and develop professional employees. In the case of R&D personnel with a high degree of specialization, we actively appoint young employees as project leaders to promote their professional growth.

Sincere and talented human resources with a high level of satisfaction with the company

An awareness survey conducted for all employees found that the engagement score was as high as 59.0 (an average of 50.0 for other companies) and employees feel that it is worthwhile to work for the company.

Initiatives to further strengthen human resources

To foster future managers and executive candidates, we operate a selective education and training program called "SMP Academy," which promotes management literacy and strengthens problem-solving and strategy-formulation skills according to the ability stage of each participant. Further, we believe that it is important to provide equal opportunities for the active participation of diverse human resources, and we actively promote diversity and inclusion.
Sustainability > Together with Our Employees
●

We have a solid foundation including local headquarters functions, sales functions, and development functions in Japan, North America, China and Asia.
Japan

In addition to the Psychiatry & Neurology Area, we are focusing on Diabetes and Rare Diseases Areas.

North America

Sumitomo Pharma America, Inc., which was integrated in July 2023 through the combination of the group companies conducts research and development, manufacturing, and sales of ethical pharmaceuticals.

China

Sumitomo Pharma (Suzhou) Co., Ltd. is engaged in manufacturing (subdivided packaging) and sales of pharmaceuticals.
We operate our business in Infectious Disease Area and Psychiatry & Neurology Area.

Asia

Reinforce business functions in Singapore subsidiary and established Thailand, Taiwan, and Malaysia subsidiary

Europe and others

Collaboration with partners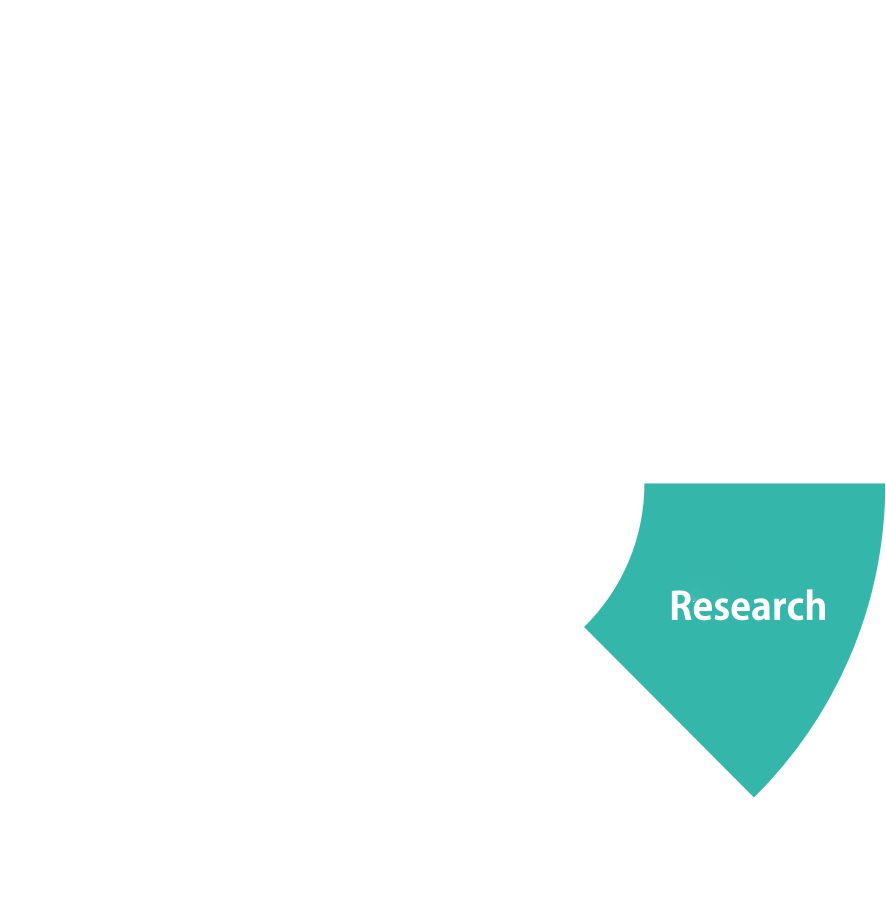 In order to deliver innovative and useful pharmaceuticals to people in Japan and around the world, we devote all our efforts to R&D of new pharmaceuticals and providing information on pharmaceuticals with the aim of improving customer satisfaction.
We also deploy frontier business with the aim of providing new non-pharmaceutical healthcare solutions.
Business Units
We aspire to establish a position as a "Global Specialized Player" with ability to meet increasingly diversified needs for healthcare in 2033.